Dear Professor,
I hope that everyone is well this Fall and excited about your contributions to the field of Information Systems. Read on to learn more about free teaching resources, our publishing activities, and upcoming Information Systems conferences.
My Whole Family is Now in IS!
On a personal note, my whole family is now involved with the field. Prospect Press is a family business run by myself and my husband, Andy. As you likely know, we seek to provide innovative textbooks in support of IS education and to a growing extent Data Analytics, especially with regard to IS-related courses.
We have two children. Our daughter, Abby, just entered the Ph.D. program at the John Molson School of Business at Concordia University, in Montreal, Canada. She will be studying Frugal Innovation and Information Technology Management with Drs. Suchit Ahuja and Arman Sadreddin. Many of you will remember when Abby worked with us at Prospect Press a few years back. You can expect to see her at future IS meetings engaging in the Doctoral Student Corner, participating in sessions, and sometimes helping out at the Prospect Press booth.
Our son, Milo, is already well entrenched in the Information Technology field. He completed the MBA and MSIS programs at Bentley University several years ago. He is now with Starfish Storage Corporation promoting their large-scale unstructured-data storage solutions.
Here's a New Year's family photo. From left-to-right there's Milo, myself, Andy, Abby, and Milo's fiancée Julia.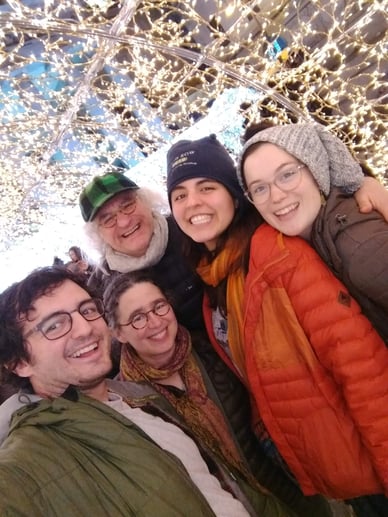 Free IS Teaching Resources from Prospect Press
In preparing Prospect Press textbooks, our authors have developed supplemental teaching resources. We welcome you to use any of them, even if you are not currently using our textbook. What we request is that when you do reconsider the primary textbook for your class that you take a look at what Prospect Press has to offer. These valuable teaching materials include the following:
Video Interviews with Senior IT Executives
IS Teaching Activities
Intro to IS Podcasts
Database Mapping Software
Big Data Video Tutorials
Programming Logic Videos
To learn more, including how to access these resources, check out our extended blog on Free Teaching Resources Available from Prospect Press.
New Textbook
This semester we are pleased to announce a new textbook that takes a fresh approach to Python Programming tailored to Data Analytics education:
Python for Data & Analytics:
A Business-Oriented Approach
by Daniel H. Groner
Python for Data & Analytics introduces essential programming concepts using Python, pandas, and other packages for the purpose of accessing data and performing analyses. Various topics often covered in a computer-science-oriented course are purposefully not included in this textbook including recursion and sorting algorithms. The presentation presumes no prior programming experience. It is designed for the introductory programming course in a data analytics, information systems, or business program.
New Titles in Development
The following textbooks are currently in development. Let me know if you are interested in serving as a reviewer for any of them or sign up to be a reviewer on our website.
Fundamentals of Java Programming for Information Systems by Jeremy Ezell.

Introduction to Sports Analytics Using R by Ryan Elmore and Andrew Urbaczewski.

Enterprise Networks: Infrastructure & Security by Thomas Case.

Modern Day Business Processes by Dawn Owens and Gaurav Shekhar.

Social, Ethical, and Professional Issues in Computing by Diane Shichtman.
Conferences
AMCIS 2022 was fabulous! We greatly appreciated reconnecting with so many of you. We are planning to attend the following conferences this Fall. If you get to attend, please stop by our booth, have some chocolate, pick up an attractive promotional bandana, look through our latest offerings, and tell us about your textbook needs.
International Association for Computer Information Systems (IACIS), October 5-8, Las Vegas, NV.
https://iacis.org/conference/conference.php
New England Chapter of AIS (NEAIS), Saturday, October 29, at Northeastern University, Boston, MA.
NEAIS 2022
EDSIG Conference on Computing Education (EDSIGCON), November 2-5, in Clearwater Beach, FL.
https://iscap-edsig.org/edsigcon/
International Conference on Information Systems (ICIS), December 9-14, Copenhagen, Denmark.
https://icis2022.aisconferences.org/
As always, please don't hesitate to contact me directly with questions or comments about our books or if you have a new book idea you'd like to discuss.
Best,
-- Beth
Beth Lang Golub, President & Editor
Beth@ProspectPressVT.com
802-862-4684