Dear Professor,
I hope you have had a good start to your term. Prospect Press is enjoying the Vermont winter and the two feet of snow out our windows! In this second edition of our newsletter we are happy to share that Prospect Press has been increasing its commitment, involvement and participation in the discipline of Information Systems.
This year we were gold sponsors of ICIS (International Conference on Information Systems) in San Francisco. At the conference, we held a "Meet the Prospect Press Authors" coffee break in the exhibit hall. Abby, our social media specialist, also collected over 50 gigabytes of interviews with ICIS attendees as part of a video project.
Prospect Press Video Project
The Prospect Press Video Project has been creating videoblogs about our books and about the field of Information Systems in general. One of our first videoblogs is titled Go for it: Advice for women considering a career in Information Systems. It provides encouragement to prospective women students from faculty members around the world. We provide a link at the end of this newsletter. Please feel free to refer people to Prospect Press videoblogs, provide a link on your website, or use these videos in conjunction with your department's promotional materials. These videos can be accessed from our website (under Blog).
Another set of videoblogs features our authors describing their books. Author videos are available in our blog or from links on the relevant Prospect Press webpages. We also asked faculty for their contribution to a videoblog titled Why I Love Prospect Press. We provide a link at the bottom of this newsletter. Keep your eyes out for more videos.
New Textbooks
Last year, we released three new titles and updated four existing textbooks. A complete list of titles currently available from Prospect Press is available at the link below my signature.
This year, in January we released a revised edition of:
Information Systems Project Management: A Process Approach, Edition 2.0,
by Christoph Schneider, Mark Fuller, Joseph Valacich, and Joey George.
This June, we will be releasing a brand new textbook:
eCommerce: A Practical Approach, by John Drake.
This summer, we will release a revised edition of:
Database Systems: Introduction to Databases and Data Warehouses, Edition 2.0,
by Nenad Jukić, Susan Vrbsky, Svetlozar Nestorov, and Abhishek Sharma.
We have several new textbooks currently in development:
Systems Analysis and Design in an Age of Options, by Gary Spurrier & Heikki Topi
Python Programming with Pandas for Data Analytics, by Robert Nickerson
Web Development, by Jakob Iverson and George C. Philip
If you are interested in helping review manuscript chapters of any of these books in development, as they are completed, please send me a short e-mail.
Finally, we hope to see many of you at a conference this Spring or Summer. See the list below of upcoming conferences we will be attending.
--Beth

Beth Lang Golub, President & Editor
Beth@ProspectPressVT.com
802-864-4684

Upcoming Conferences:
Oshkosh, Wisconsin, May 21-22, 2019 Nashville, Tennessee, June 20-22,2019 Cancun, Mexico August 15-17, 2010

Our Blogs:
(Click on image to view blog)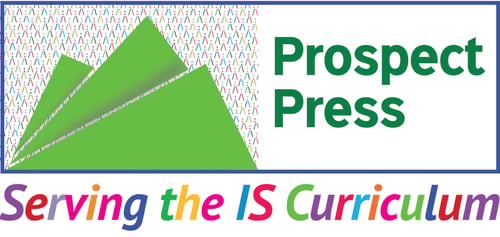 Prospect Press Titles, Spring 2019