Helmut Krcmar and Jane Fedorowicz share why you should attend ICIS 2019 in Munich, Germany
Transcript:
Hallo, here come Helmut Krcmar and Jane Fedorowicz to tell you why you should attend ICIS 2019 in Munich, Germany.
First of all, It is the 40th conference of ICIS, and how could you miss it?
Second, It's in Munich. It's the first time in Germany.
Third, It's in Munich! A great town in Germany with a lot of Christmas festivities and beer opportunities for everyone who comes.
In addition we plan on a really innovative program with, for example, professional development workshops and integrating research-in-progress papers right into the program to make them more accessible for everyone who wants to see them.
The motto is "Information Systems at the Heart of Innovation Ecosystems." In the German IS tradition, it's very often a tight connection between new knowledge stemming from academia, the entrepreneurial and startup spirit so prevalent in Munich, and of course corporations taking up all the new stuff. And we will mingle these groups in our conference.
We are taking advantage of being in Munich by holding our doctoral consortium in a castle, out in the remote countryside. And also by having our social event in a beer cellar. Lowenbraukeller. I can never pronounce that.
By the end of this lovely event you will be about to pronounce it in the right way.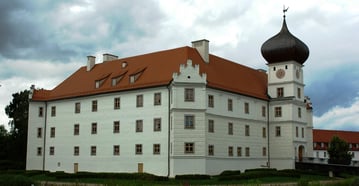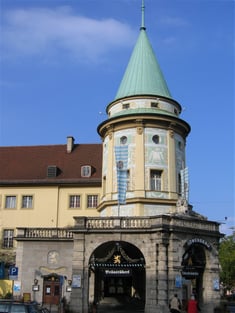 [Left: Schloss Hohenkammer / Photo by Eigenes Werk, CC by 3.0
Right: Lowenbraukeller / Photo by Rufus46, CC by 3.0]
We hope you are coming! Please come. Thank you.
Prospect Press will be there too! Please stop by our booth to say, "hi," grab a chocolate, and check out our new books.
Thank you to AIS for providing space for us to film at the ICIS 2018 in San Francisco!