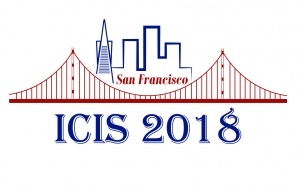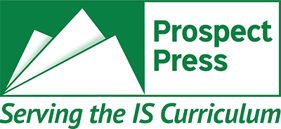 Gold Sponsor!
We are delighted to announce that Prospect Press has increased our involvement with conferences sponsored by the Association for Information Systems (AIS). For the first time, we have committed to being a Gold Sponsor of this year's International Conference on Information Systems (ICIS) being held in San Francisco from December 13-16. It is a pleasure to further our collaboration with AIS with our shared goal of supporting advancement of the evolving IS curriculum. Further, we express our deep gratitude to the hard and inspired efforts of our authors, book reviewers, and to the IS educators around the globe that have been increasingly adopting our textbooks. Thank-you.
Prospect Press Activities at ICIS
We would also like to thank Matt Nelson, Lise Fitzpatrick, and Rob Nickerson who have created new opportunities for our participation at this meeting. The following is a list of activities Prospect Press will be involved with at the upcoming meeting:
Exhibits will be open all day Friday and Saturday (12/14-15). We will have a table in the exhibit room where you can peruse our latest offerings, have a piece of chocolate, and share a smile.
Meet the Prospect Press Authors event in the exhibits room during the first extended break on Friday from 10:00-11:00 am. Coffee, tea, and baked goods will be provided. Prospect Press authors in attendance will be available to meet and discuss classroom techniques. Authors in attendance include

Shaila Miranda -- Social Analytics,
Christoph Schneider, Joey George and Joe Valacich -- IS Project Management,
Heikki Topi -- SA&D,
Gabe Piccoli -- IS for Managers,
France Belanger and Rob Crossler -- IS for Business,
Gurpreet Dhillon -- Information Security,
Rob Nickerson -- Python & Pandas, and
Rick Watson -- Data Management

.
Refreshments at the AIS Women's Networking Event on Friday (12/14) 12:30-1:45 pm.
Filming video blogs on various topics including the following:

The value of AIS meetings,
Jobs for IS grads,
Women in IS,
IS and business analytics, and
IS classroom techniques and tips.

If you are interested in participating, get in touch with Abby Golub (Social Media Coordinator) either by email (Abby@ProspectPressVT.com) or by stopping by our booth.
For more information
To learn more about the International Conference on Information Systems (ICIS) click on the button below:
To learn more about conferences and other services provided by the Association for Information Systems click on the button below:
To learn more about Prospect Press textbooks click on the button below:
Blog by Andy Golub, Partner
Andy@ProspectPressVT.com
802-862-6717